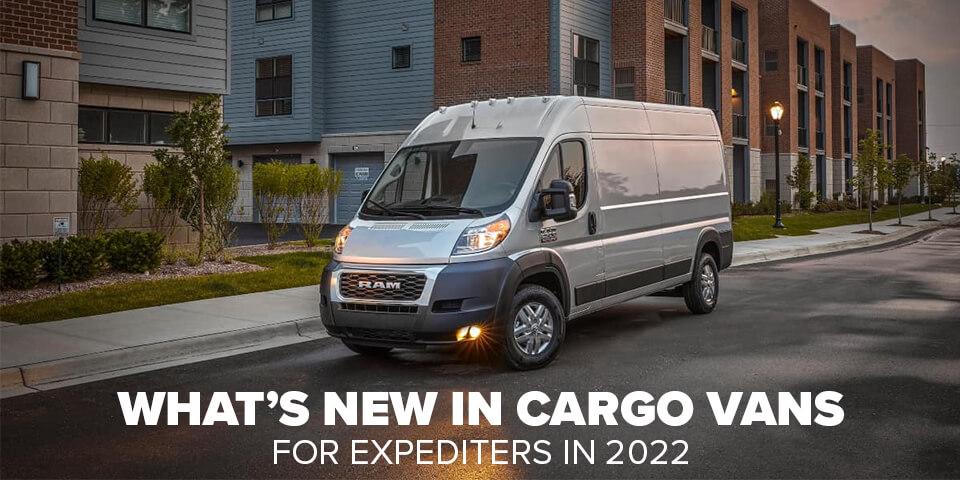 Cargo vans are an integral part of the expedite industry. And if you?re one of the thousands of cargo van owner operators providing ground transportation across the North American landscape, you?ll want to make sure you?re up to speed on what?s new for 2022.
Or perhaps you?re looking into purchasing your own cargo van to start hauling freight in an expeditious fashion. If so, you?ll also want to explore what?s on the horizon for 2022.
2022 Ford Transit Cargo Van
The 2022 Ford Transit Cargo Van boasts an all-electric powertrain, and now comes with an optional 12-inch infotainment display, which replaces the previous eight-inch unit. A rearview camera has been made available, as well as an automatic engine shutdown feature. An improved dual-passenger seating package puts the center console in-between the front seats, and new shelving and bulkhead options are being made available as well. Reverse automatic braking is being added as an option, and keyless entry with push-button start will also be accessible.
2022 Ram ProMaster Cargo Van
The 2022 Ram ProMaster Cargo Van advertises a nine-speed automatic transmission that replaces the previous six-speed version, with variable electric power steering replacing the hydraulic system. An electronic parking brake has been added, as well as a revised dashboard design. Enjoy keyless entry and push-button start, as they?ve become standard. Optional and standard gauge displays, with a larger infotainment screen are available. And additional driver assist and active safety features add comfort in knowing security and protection is valued.
2022 Chevy Express Cargo Van
The 2022 Chevy Express Cargo Van already comes with a base 4.3-liter V6 engine, but there?s an available 6.6-liter V8, and/or a 2.8-liter Duramax turbo-diesel. The Chevy Express remains pretty basic, but there are several package options being made available, including a ?Driver Convenience Package? with cruise control and a tilt steering wheel. A ?Communications Package? with Bluetooth, a USB port, SiriusXM, and steering wheel controls. A ?Safety Package? with rear parking sensors and blind-spot monitoring. And an ?Enhanced Convenience Package? with remote keyless entry and remote start.
2022 GMC Savana Cargo Van
Just like the 2022 Chevy Express, the GMC Savana Cargo Van comes standard with a 4.3-liter V6, but a 6.6-liter V8 is also available, and it links to a heavy-duty 6-speed automatic transmission. The 3500 version is available with the standard or extended wheelbase, plus cargo management tools. A spray-in cargo floor liner can be added. And heated, power-adjustable side mirrors and six-way power-adjustable front seats are available. Keyless entry, remote start and Wi-Fi are available as an upgrade. And the infotainment features include a USB port, Bluetooth, and satellite radio.
2022 Mercedez-Benz Metris Cargo Van
The 2022 Mercedes-Benz Metris Cargo Van doesn?t come with much in the way of updates for the new year, but you?ll have the option to go with the 126? short wheelbase or the 133? long-wheelbase. For reference, the maximum payload for the long-wheelbase will be limited to 2,150 pounds, while the short wheelbase will handle up to 2,205 pounds. Standard features will include a backup camera, a load adaptive electronic stability program, plus crosswind and driver attention assist. Other assists will come in the form of collision prevention and hill start assist. Optional equipment will include blind spot and lane-keeping assists, as well. The interior features a seven-inch infotainment system with Bluetooth/SD card support, single-zone manual air conditioning and seats with lumbar adjustment.