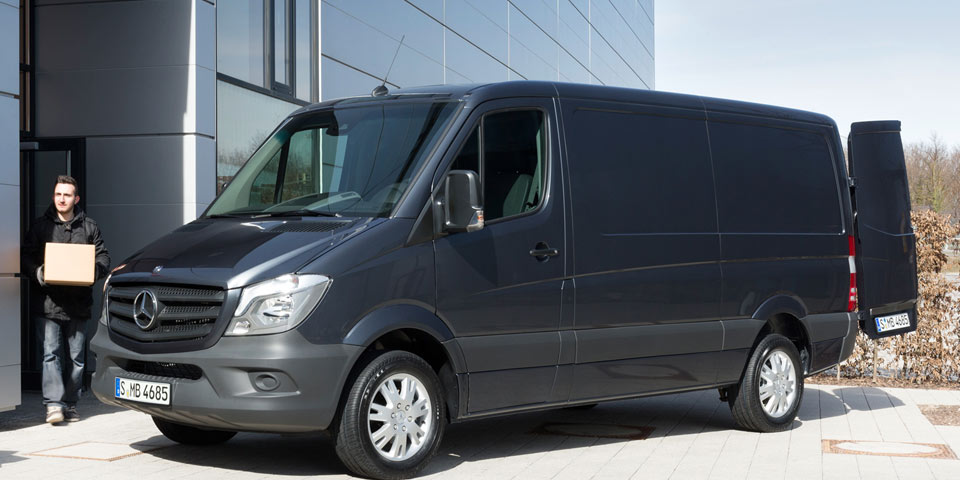 Cargo Vans for 2013
Terry O'Connell, a former Roberts Express and Fed Ex Custom Critical driver has been around expediting for years. He reports, "Back in the 80's and early 90's, Roberts Express and Tri-State Expedited Services were the only truly nationwide expedited freight carriers. They utilized Ford Econoline, Chevrolet Express, GM Savana and the less popular Dodge Ram.  After outfitting, each of these cargo vans had an available capacity of 2000 – 2500 pounds and could accommodate two four-foot tall pallets."

Phil Weiner, of Try Hours Inc., John Elliott, owner of Load One Inc., and Terry O'Connell estimates cargo van freight availability being at 25%. With approximately 25% of the available freight being for cargo type vans and the proven value of the taller 'sprinter' style of van, manufacturers have come a long way in meeting the demand for cargo vans from the initial four basic models offered in the 80's and 90's. Cargo vans are now taller, longer and wider to accommodate two or three pallet loads.

GM/Chevrolet

The Savana is the only full sized cargo van to offer the option of using a fully integrated compressed natural gas (CNG) system, helping reduce CO2 emissions for the ecology minded owner. Other engine options include gas, E85 and biodiesel. Powertrain choices include the most powerful diesel in its class, with 260 hp and 525 lb-ft of torque, and a V6 with an EPA-est. MPG of 15 city/20 highway.

FlexFuel-Capable engine options: Vortec 4.8L V8 VVT, Vortec 5.3L V8 VVT, and Vortec 6.0L V8 VVT
 
Additional engine options: Vortec 4.3L V6, 6.0L V8 Compressed Natural Gas and Duramax 6.6L V8 Turbo Diesel
 
Express Cargo Vans are built to be strong, tough and can be spec'd to fit your needs. Engine options are FlexFuel which allows either E85† or gasoline to be used. For more power, the Duramax 6.6L Turbo-Diesel V8, which is B20 compatible, is available and the most powerful diesel in its class. The Vortec 6.0L V8 Compressed Natural Gas system is available in either a 3-tank or a 4-tank configuration.

Maximum cargo volume: 284.4 cu. ft. Maximum cargo length: 146.2 inches Maximum cargo height: 53.4 inches Width between wheel wells: 52.7 inches 2500 Regular WB starting at: $27,255 2500 Extended WB starting at: $29,115 3500 Regular WB starting at: $30,575 3500 Extended WB starting at: $31,460 Dimensions and prices are the same for both models.

Ford

Available in 2014, Ford will offer the new Transit; there are some rumors that the Transit will replace the E class cargo van Ford now offers.  Entering the euro-style of the high roofed cargo van market, nearing the capacity of the Mercedes Benz Sprinter, the Transit does top the Sprinter with the highest roof of the two coming in at 81.4 inches and the widest width between wheel wells at 54.8 inches.  Ford has not released data on fuel mileage as of yet, other than to say the Transit will have 25% better fuel economy than the E class; other data is sparse.  However, Ford will offer three roof heights and options of GVWR's of 8,600 to 10,260 pounds with a payload capacity in excess of 5,000 pounds.

Most powerful available engine: 3.5L twin-turbocharged V-6, 350 hp (est), 400 lb-ft torque (est) Maximum cargo volume: 496 cubic feet Maximum cargo length: 171.5 inches Maximum cargo height: 81.4 inches Width between wheel wells: 54.8 inches
Econoline E Class offers a model for every freight need.  Starting with the E-150, with either a 4.6L or 5.4L EFI Tritonn® V8 engine with 4-speed Automatic Transmission to the E-350 extended with a  5.4L EFI Tritonn® V8 engine with 4-speed Automatic Transmission or a 6.8L EFI Triton® V10 engine with 5-speed Automatic Transmission, these workhorses of the Ford line can do the job.  The rear cargo doors have a 50/50 swing out with 172-degree door checks making loading or unloading pallets easy.  The price starts at $23,375.

Nissan NV 2500/3500 HD

Nissan's NV series does not offer the versatility of the other manufacturers with the main choices offered being whether the van has a low or high roof.  It does beat the Sprinter in wheel well distance, at 54.3 inches.

2500 HD - 261 HP, 4.0-liter V6 or 317 HP, 5.6-liter V8
3500 HD - 317 HP, 5.6-liter V8 Full-length, fully-boxed ladder frame                                   243° Opening range for rear cargo doors 234.1 cu. ft. cargo space in standard roof                323.1 cu. Ft cargo space in high roof  
Prices are NV2500® HD starting at $26,420, NV3500® HD $29.020.

Mercedes Benz

There is little new about the MB 2013 Sprinter.  Retaining its lead in cargo capacity at a whopping 547 cubic feet, the Sprinter can be spec'd with the longest length of any other cargo van.  Mercedes Benz has yet to offer a stronger engine than the 3.0-liter turbodiesel V-6 though.

Most powerful available engine: 3.0L turbodiesel V-6, 188 hp, 325 lb-ft torque Maximum cargo volume: 547 cubic feet Maximum cargo length: 185 inches Maximum cargo height: 78.2 inches Width between wheel wells: 53.1 inches  
Prices start at $36,290
 
Dodge


Ram's ProMaster is mentioned as being 'homely', it resembles the Fiat Ducate, but with its straight sides, it offers huge cubit footage of usable space.  Whether one chooses the diesel or gas engine, with the low torque transmission provided, it may not perform adequately in mountainous regions, but does very well in city traffic.

Available engines: 3.0L turbo-diesel I-4, 174 hp or 295 lb-ft torque or a 280-hp gas engine Maximum cargo volume: 529.7 cubic feet

Maximum cargo length: 160 inches Maximum cargo height: 85.5 inches Width between wheel wells: 55.9 inches  
While there are a couple of new models debuting during 2013 for the 2014 model year, the Ford Transit is leading in the most speculation and anticipation by cargo van owners, followed by the Ram Promaster.  However, much of the speculation about the Transit is due to lack of information and statistics even after its unveiling at the 2013 Detroit Auto Show. Lawrence McCord, former driver at Roberts Express and owner of ExpeditersOnline.com, has this to say about the Transit, "I think Sprinters dominance will be challenged with these vans plus the full size Ford Transit Van."
 
It will be an interesting couple of years ahead as the newest additions to the cargo van family get on the road and North American performance data accrues.  Which van will finally head the pack, only time will tell.