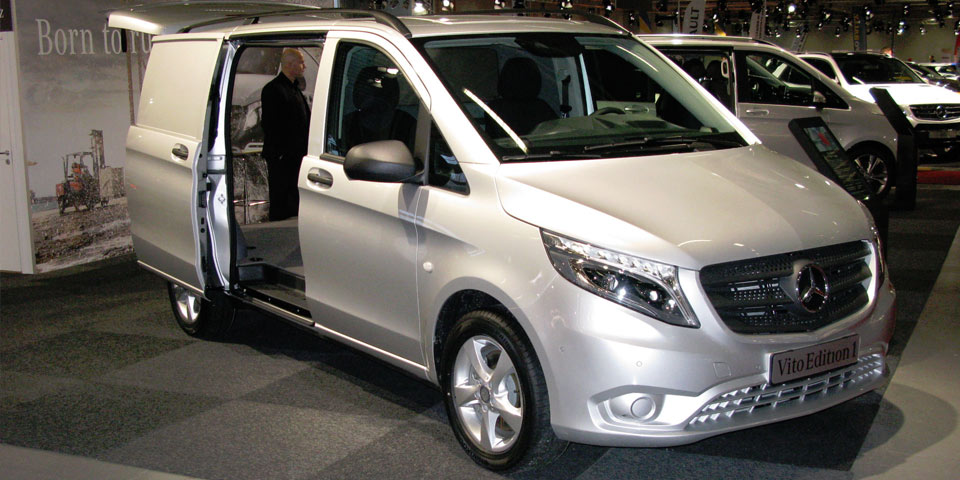 Daimler to Bring New Mid-Size Vito Cargo Van to North America
The automotive industry has been speculating for quite some time that the popular Mercedes-Benz Sprinter vans could get a smaller cousin in North America in the form of the Mercedes-Benz Vito van, and now it appears that it is indeed in the works.
At a world premiere of the new version of the Vito in Berlin this week, Daimler said it's attacking the mid-size van market with the new Vito model series and that as a "global model" it will come to North America.
In a tweet following Monday's unveiling, Daimler Trucks & Buses (@Daimler_CV) answered a question about whether the Vito would come to the U.S. with, "Yes, we are bringing the #mbvito to North America. Stay tuned for more!!"
HDT has asked Daimler whether "North America" definitely includes the U.S. but has not yet received an answer.
The Vito has been around since 1995 and had sold 1.2 million by the end of 2013. The new version, like its predecessor, is built in Vitoria, Spain. The company invested around €190 million ($254 million) in the plant for the model changeover in the mid size segment.
Its payload is among the highest in its segment, while procurement and operating costs are low, said the company.
"We're attacking in the mid-size van segment", said Volker Mornhinweg, head of Mercedes-Benz Vans. "We're now offering new entry-level variants in our traditional markets. But we also plan to conquer new markets, such as North and Latin America, with the new Vito. The vehicle will follow in the footsteps of the Sprinter and become our second global model."
The van initially will be sold in Germany starting this fall, followed by other European countries in 2015. Although it eventually will come to North American shores, the company has not yet outlined a timetable for that transition.
Available in a panel van, crew or minibus version, the new Vito offers greater dimensions than its predecessor, and Mercedes says it boasts the highest upper payload in its class.
At the same time, diesel consumption has been reduced by around 20%.
In Europe, buyers will have a choice of rear-wheel, all-wheel, and — in a new development — front-wheel drive systems.
The new front-wheel drive Vito is a very light vehicle, being marketed at a very attractive price, according to the company. The rear-wheel drive system is designed for jobs involving heavy loads or trailers, and situations where very dynamic handling is required. The all-wheel drive system is desirable when a high degree of traction is required, especially in tough driving conditions and on unpaved roads.
The front-wheel drive variants are equipped with a compact, transverse-mounted four-cylinder engine with 1.6 liters displacement. This engine is available in 88- and 114-horsepower versions.
Vito models with rear or all-wheel drive systems are equipped with a four-cylinder engine with 2.15 liters displacement. This engine is available in three output ratings: 136, 120, and 190 horsepower. The Vito 119 BlueTEC is the first van in its segment to use a Euro 6 engine, says the company.

www.TruckingInfo.com