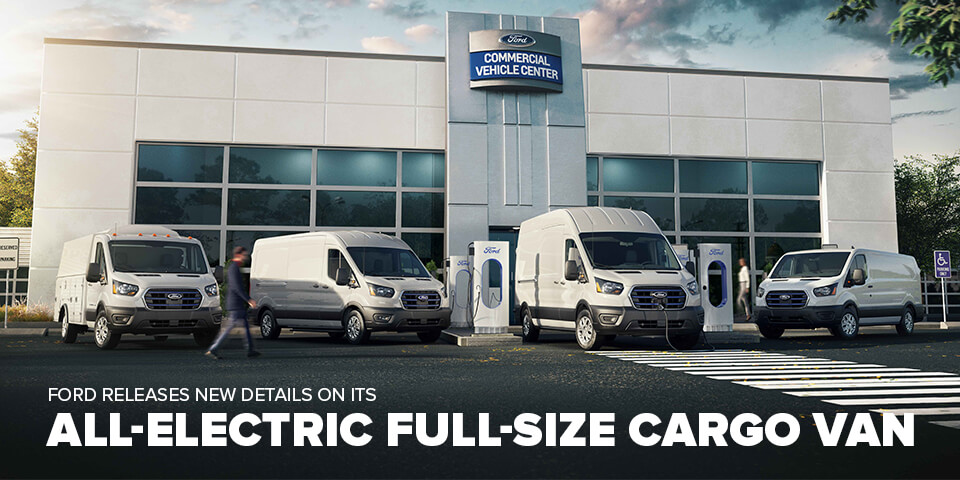 Ford Releases New Details on Its Upcoming Electric Cargo Van
Earlier this year, I wrote about the upcoming 2022 all-electric Ford E-Transit cargo van.
We explored what the E-Transit rollout could mean for expediters. But we didn?t have too many details.
Well, that changed recently. Ford has released updated pricing, launched a registration website for interested buyers, and announced other details to give a fuller picture of what we can expect with E-Transit in the coming months.
Here are the latest updates.
Pricing
E-Transit has updated pricing, with a targeted starting MSRP of $43,295 for the cutaway to $52,690 for the high-roof extended-wheelbase cargo van.
Most van expediters use the high-roof extended configuration. So, the critical number to look at is the $52,690 starting price.
How does that price compare with the gas-powered Transit?
The high-roof extended-wheelbase rear-wheel-drive cargo van powered by the 3.5L EcoBoost gasoline engine rated 9,500 lbs. GVWR starts at $44,790.
So, you?re looking at about an $8,000 upfront premium for the E-Transit. But you?re still not comparing apples-to-apples because the E-Transit?s range between charges is significantly lower than what a conventional Transit can travel with a full tank of fuel.
Yet, if battery costs continue to drop, it may not be long before the E-Transit could offer sufficient range at a price point that would make it practical for expediters.
Order banks open in July
Ford launched a new E-Transit registration site on Fleet.Ford.com, where customers can review the targeted starting MSRP and driving range for all configurations for E-Transit cargo van. Customers can also indicate their desired versions and receive the latest news on E-Transit, including notification when order banks open. No deposit or purchase commitment is required.
Eight configurations
E-Transit will offer eight configurations, including a cargo van with three roof heights and three lengths, plus chassis cab and cutaway models.
The company said that preliminary conversations with commercial customers indicate strong demand across all eight configurations, with roughly 40 percent leaning toward high-roof vans and a combined 60 percent toward medium-roof, low-roof, cutaway and chassis cab versions.
Cargo area unchanged
E-Transit will offer the exact cargo dimensions and standard mounting points as the gas-powered models. This is important to know because it appears the van?s batteries will not be taking up valuable cargo space. So, you would not have to sacrifice cargo area to go all-electric.
Nationwide service network
Ford projects that scheduled maintenance costs over eight years/100,000 miles will be 40% less than for the gas-powered Transit based on recommended service schedules.
That said, fully electric powertrains are new. And, whether you?re an owner-operator or fleet owner, the last thing you want to worry about when you?re working with new technology is trying to find a place to service the vehicle.
That?s why it?s essential Ford is leveraging their large existing service network to work on E-Transit. The van is backed by 645 Ford Commercial Vehicle Center dealers across the U.S. ? about 90 percent of which are electric vehicle-certified ? for E-Transit sales and service.
Range
According to Ford, E-Transit was designed with insight from 30 million miles of customer telematics data showing that the average commercial van drives 74 miles per day. With a usable battery capacity of 67 kilowatt-hours, the low-roof E-Transit cargo van has a targeted driving range of 126 miles.
The Bottom Line
The projected range for the E-Transit is too short for most expedite loads. But if - or when - Ford offers an extended range option of, say, 300 miles or more without substantially increasing the price, then Transit will be in the ballpark for expediters. That range may still be too short. But depending on charging speed, the van could become practical for the expedite market. And that would be a game-changer.