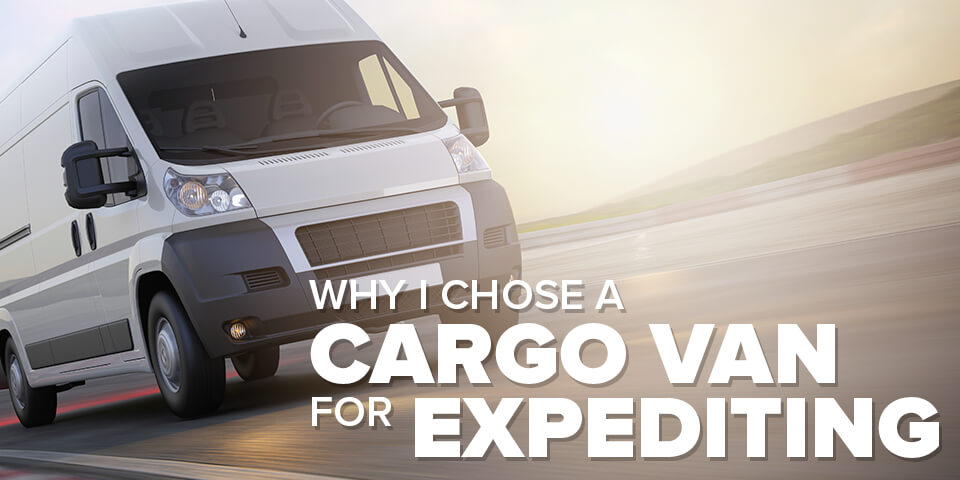 Part 3: Why I Chose a Cargo Van for Expediting
This is the final installment of a three-part series to introduce you to each type of vehicle typically used for expediting. The first two articles covered "Why I Chose a Tractor" and "Why I Chose a Straight Truck."
Rick Guffey is an owner-operator and fleet owner who has leased with Square One Transport and Logistics since 2015. He owns three 2015 Ram Promaster extended wheelbase, high-roof cargo vans. One is a 2500 model, and the other two are 3500's.
So, why did Guffey choose a cargo van for expediting?
1. Lower Costs
"I chose the cargo vans primarily because of the lower purchase price and maintenance costs, especially for starting a small fleet," says Guffey. "I prefer the cargo van's size, and I was trying to get involved with multiple vehicles at what I considered to be a cost my business would be able to support."
As a frame of reference, a new straight truck, which is the most common vehicle used for expediting, costs about $180,000 to over $200,000. A fully-equipped diesel-powered cargo van with a small sleeper is less than half that price, running about $70,000. And Guffey gets his vans for even lower cost because he equips them with the gasoline engine.
"Diesel fuel typically costs more than gasoline, and the initial cost of the van with a gasoline engine is $6,000 to $8,000 less per vehicle compared to diesel vans," says Duffey.
Usually expediters will choose a diesel engine over gas because of the high annual miles the vans travel in expedite applications and the longer usable life of the diesel engine. But Guffey takes a different perspective: "I still expect 400,000 miles out of these gas engines. And I can still replace that engine for less money than the initial cost of the diesel engine. The maintenance costs are also much lower with the gas compared to diesel engine."
2. Conducive for Solo Operations
"I ran the numbers and couldn't see how a solo driver could make as much profit in a straight truck as one could make in a cargo van," says Guffey. "If you're a team, I would suggest going to a straight truck because you get to avoid a lot of the [hours of service] regulations. But I found that when I was in a big truck as a solo driver, it was difficult to cover those higher costs."
Guffey says that the key to profitability with running solo in his vans is that he equips them to be able to haul three skids or pallets. "Many expediter vans are equipped to haul only two skids so they can have living space. But that really limits what loads they can take on," says Guffey.
3. Fewer DOT Regulations
"The D.O.T. still hasn't over regulated cargo vans. So drivers can still pick up a load in Washington, D.C. and drive straight to Michigan without having to stop, except for fuel," says Guffey. "As a solo driver in a straight truck, that trip might take you two days to get there. But my guy can deliver the load there in one day in a van. That's a huge benefit to buying cargo vans versus the straight truck. That is, unless you're a team driver. If you're a team driver, then by all means get a straight truck."