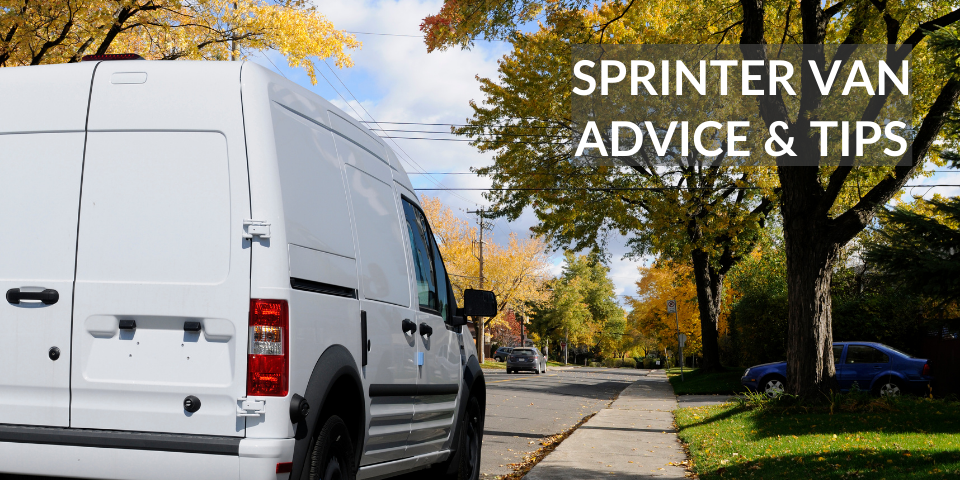 Sprinter Van Tips and Advice
Becoming your own boss comes with a certain level of excitement, anticipation, and fear. When considering starting a career as a Sprinter van owner operator, it?s important to perform your due diligence and research what you could potentially come across or what you might expect.
The first thing to keep in mind is that you are the master of your own Sprinter, so you decide what you do and where you go with it.
Do you already own your Sprinter and you?re simply looking for a place that will help you keep it moving? If so, your decision is a business move predicated on what type of freight you?ll be hauling, where and how often. Only you know what?s needed to keep your fiscal wheels moving, so make sure your choice of carrier will cater to your needs and expectations.
If you don?t own your Sprinter, perhaps you?re leasing it from a dealership, then you?ll want to make sure the company you?re interested in signing with will accept the machine you?re piloting. Most will be accommodating, but there are some out there who can afford to be picky regarding what type of equipment they?ll allow.
Choose wisely. Not only will you be considering the same queries as if you?re already sole owner of your Sprinter, but you?ll also want to make sure that the freight they provide will be sufficient to accommodate your van?s payment. Every penny is going to count, remember that.
Be Financially Prepared
Most folks don?t consider the fact that to make money, you must spend money. Sometimes that?s easier said than done. In a perfect set-up, you?ll already have some cash bankrolled off to the side. Something that may have been sitting in a rainy-day fund, or perhaps your kid?s college tuition. One way or another, you?ve got to have a little scratch if you?re going to satisfy the itch. There?s no easy way around that. And a common rule of thumb is to have at least six months of living expenses saved up for when you?re out on the road, so you will be prepared for when the little stuff starts to add up.
If you don?t have that type of dough to get this show on the road, you?ll have to find a way to get it. Beg, borrow and deal (not steal) if you must. But do so with the notion in mind that what you put into this venture is what you?re going to get back.
Be Fiscally Savvy
Speaking of dough and how to use it to your advantage, here?s a way to cut into your expenses. Learn to meal prepare your meals while over-the-road.
For a lot of folks, that meal prep is done in an effort to control what and when they eat, mainly to help with managing weight and/or internal health.
But when you?re faced with downtime after finishing a trip, meal prepping can also be good to help pass the hours and minutes. And drivers who properly manage their mealtime, also find that they?re better at managing their finances as well.
After a load is complete, have a grocery list of the supplies you?ll buy most regularly. Plan ahead and know where you?re going to shop. Then, once you?ve purchased your ingredients and necessities for the week, get back to the comfort of your van and begin putting those meals together for the next few days.
Not only will you find this method will save money in dining costs, like stopping for fast food or eating at a truck-stop, but the preparation will help fill the void of time while you wait for the phone to ring.
Necessary Expenses
Something else to remember is that insurance will play a big part in getting started. Most companies will allow you to run under their insurance, as well as their DOT authority. But be aware that it?s going to cost you out of pocket for that coverage, whether you obtain it on your own or through the carrier you?re going to lease with. Get good coverage, it?s imperative.
Next, get yourself a tax professional who can help you keep track of everything. Once you get out on the road and you?re turning and earning, you?ll need someone you can count on to manage and maintain your finances. Unless you?re already an established numbers guru, it?ll help to have that second calculator in your corner.
And, Finally
Being your own boss, in your own Sprinter, on your own time, is going to come at a price that can?t be quantified in terms of cold hard cash. Time. Time is money in this industry, but displaying patience is perhaps the biggest key to managing your time.
Stay patient. Stay determined. Know that there will be ups and downs in whatever you do in this business.
If there are other crucial tips or bits of advice that may have been missed or glossed over, please feel free to contribute your thoughts and ideas to [email protected] We welcome the engagement.